Careers
Do you dream of bringing better food to millions of people? Are you an insanely motivated, highly adaptable, scrappy team player who wants to champion chickpeas across acres of farms and store shelves alike?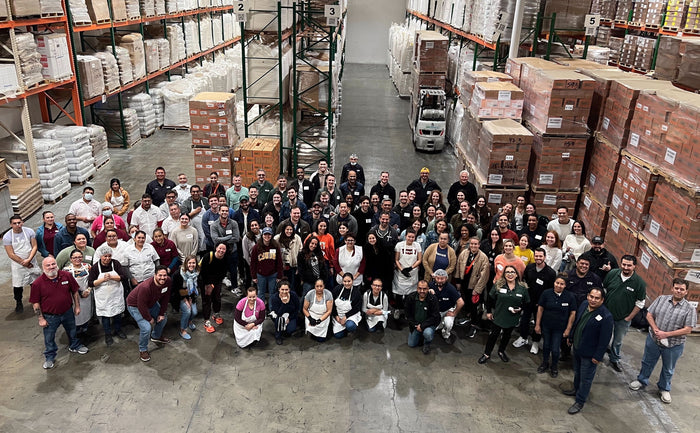 Banza makes comfort foods out of chickpeas, including pasta, pizza, mac & cheese, and rice. Since 2014, Banza has been on a mission to inspire people to eat more chickpeas and other beans because of their positive impact on human and environmental health. Today, Banza's chickpea products are available in nearly 21,000 stores nationwide, and it is the fastest-growing pasta brand in the country.
People don't expect their pasta, pizza, and mac to have personality — but we do! Behind the orange box, we're a passionate, data-driven, and quirky team. We're focused on our mission and get there by being highly collaborative. We love all things food and celebrate it every day. We also love hanging out as a team! Team members who live in the NYC area come into our office occasionally, and we make sure that fully remote team members have a chance to meet up in person 2-4 times per year. Nothing makes us happier than welcoming someone new into our Banza community, so send us a note and tell us about yourself!
We're a remote-optimized company, which means we're open to fully remote candidates for most roles and teams. If a role requires one or two days a week in our New York Office or Manufacturing facility, we'll note it in the post. We aim to be as flexible as possible, so please feel free to reach out to inquire about your specific situation! 
Banza is committed to a diverse and inclusive workforce. To achieve our mission of making nutritious food more accessible we greatly benefit from a range of perspectives, which comes from diversity of all types, at all levels of the organization. Achieving true diversity and inclusion is the right thing to do and the smart thing for our business. So we strongly encourage women, veterans, people with disabilities, people of color, and gender nonconforming candidates to apply.
Banza is an Equal Opportunity Employer and does not discriminate on the basis of an individual's sex, age, race, color, creed, national origin, alienage, religion, marital status, pregnancy, sexual orientation or affectional preference, gender identity and expression, disability, genetic trait or predisposition, carrier status, citizenship, veteran or military status and other personal characteristics protected by law. All applications will receive consideration for employment without regard to legally protected characteristics. Banza will consider qualified applicants including those with criminal histories consistent with legal requirements.