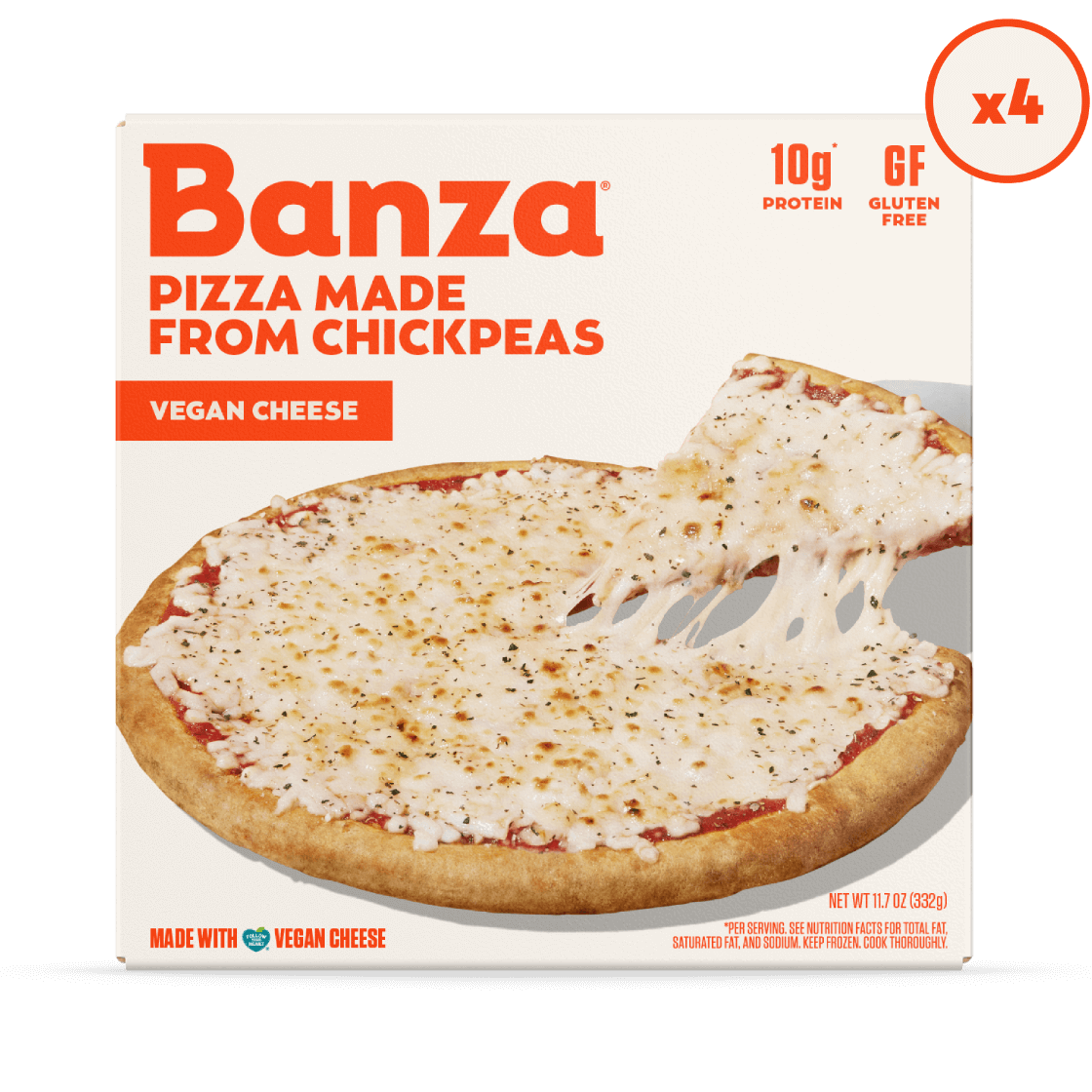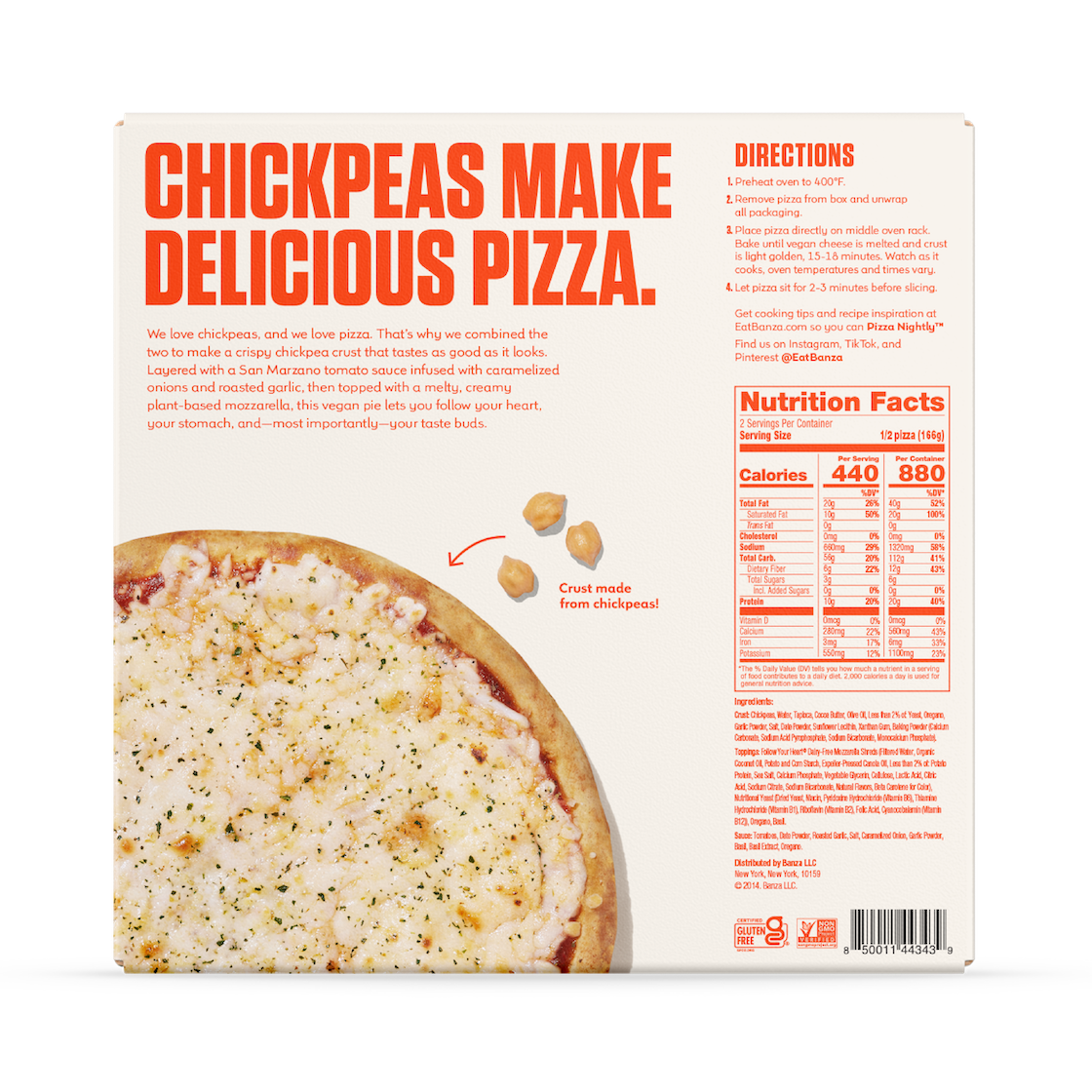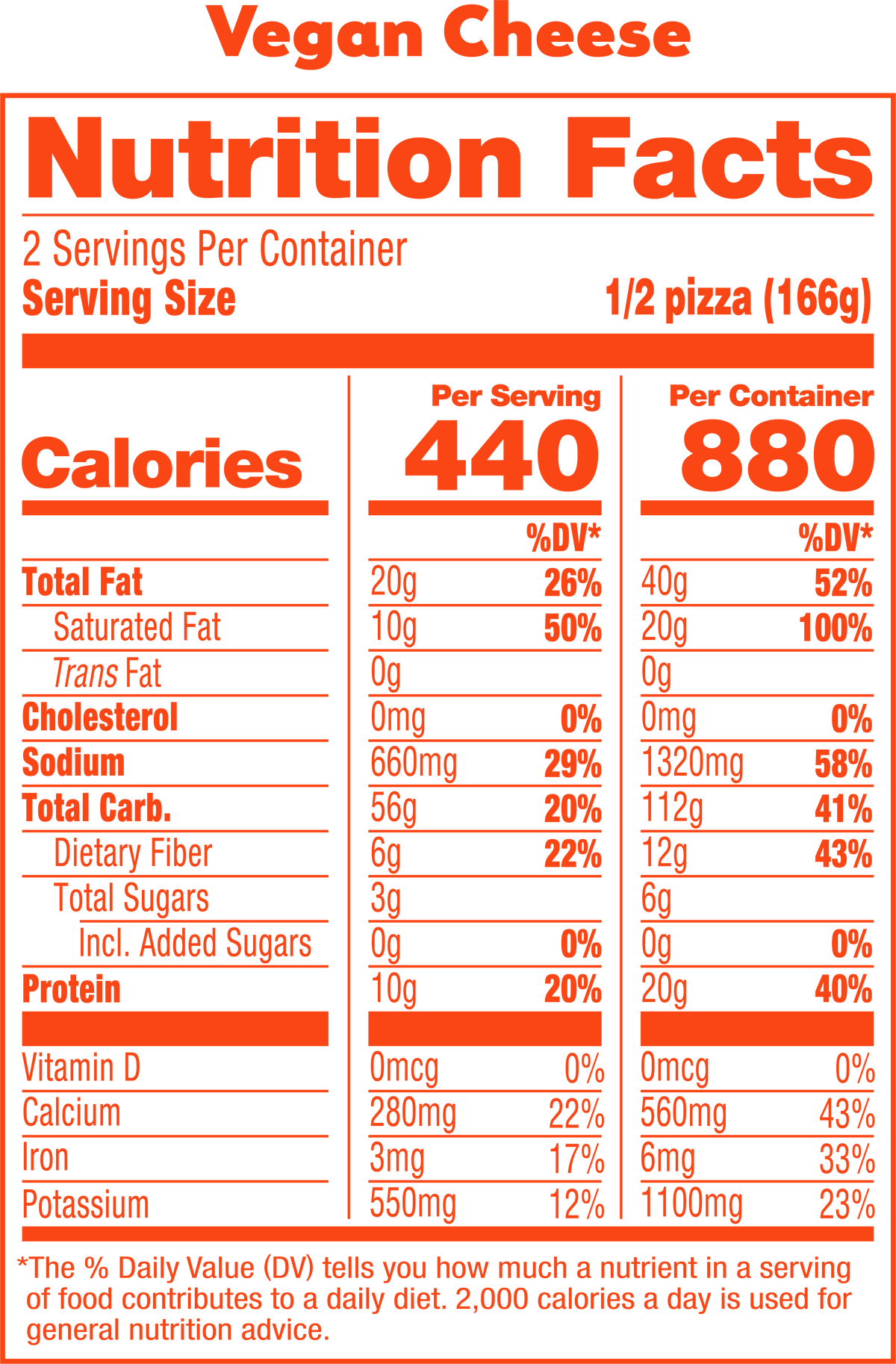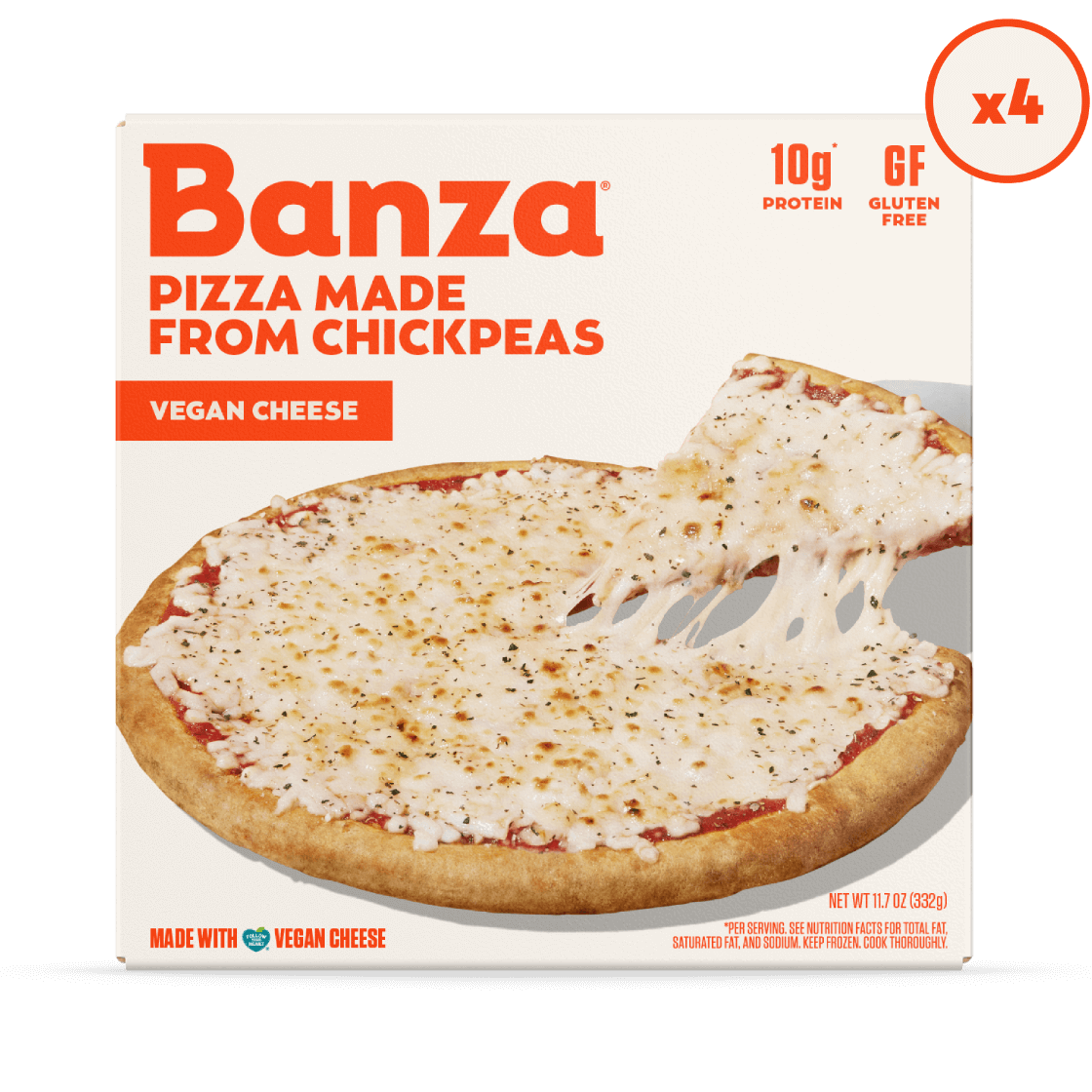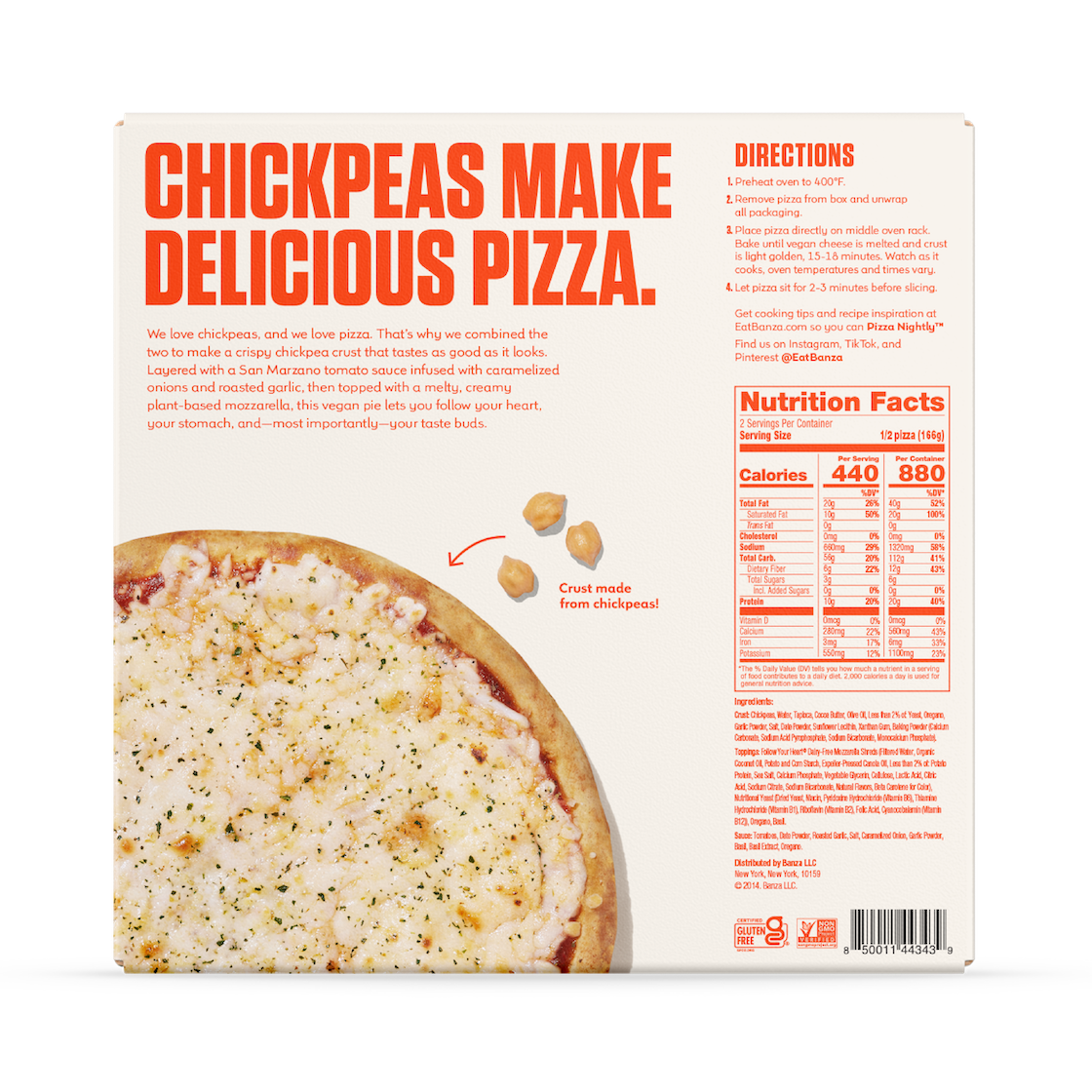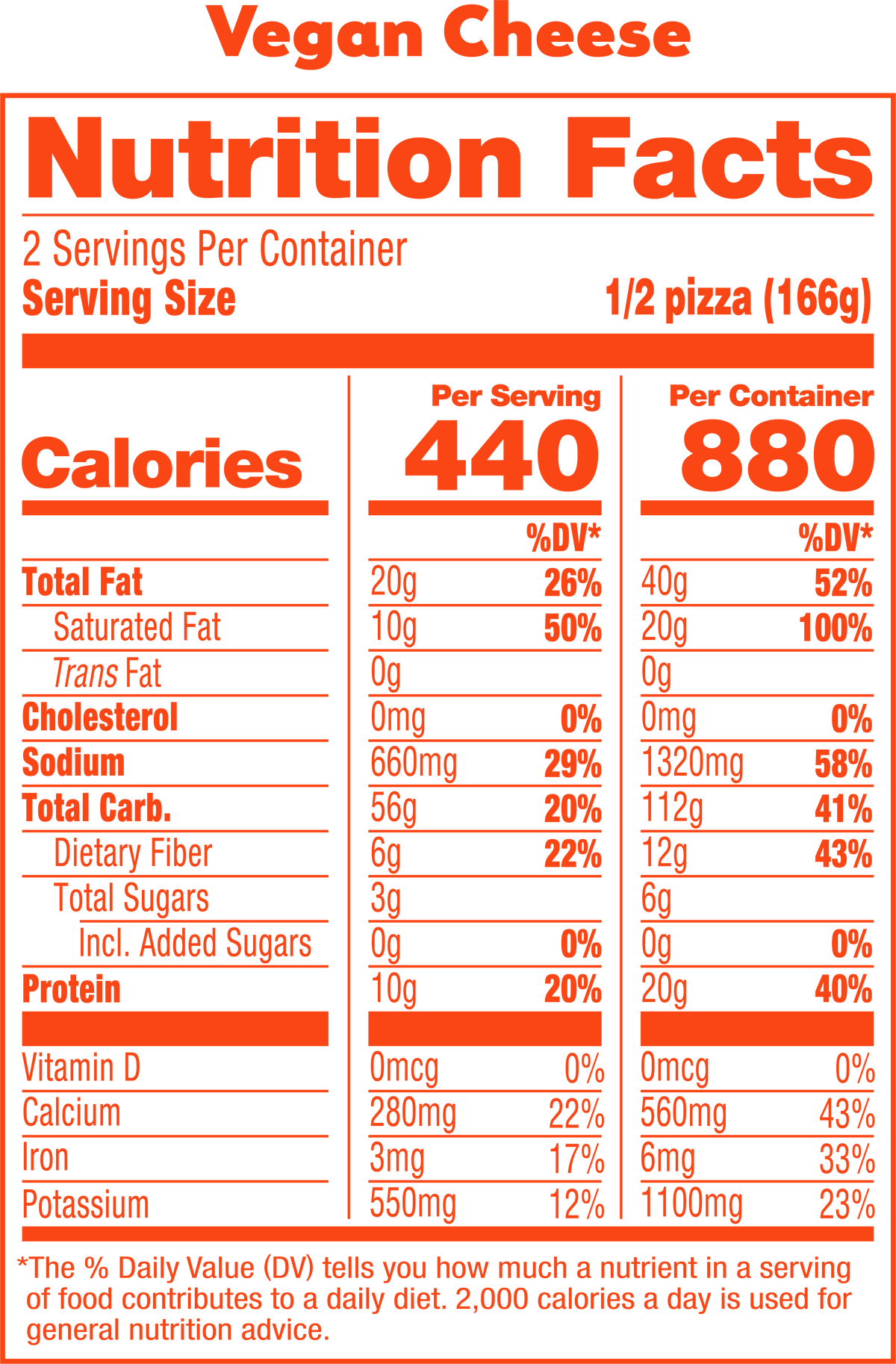 Vegan Cheese Pizza
Chickpeas. Pizza. Together at last. This vegan pizza is layered with a San Marzano tomato sauce infused with caramelized onion and roasted garlic and topped with a melty, creamy plant-based Follow Your Heart® mozzarella. So yeah, you could say this vegan pie lets you follow your heart, your stomach, and—most importantly—your taste buds.
Includes: 4x Vegan Cheese Pizzas.
Each Plant-Based Cheese pizza is 9 inches in diameter. 
Crust: Chickpeas, Water, Tapioca, Cocoa Butter, Olive Oil, Less than 2% of: Yeast, Oregano, Garlic Powder, Salt, Date Powder, Sunflower Lecithin, Xanthan Gum, Baking Powder (Calcium Carbonate, Sodium Acid Pyrophosphate, Sodium Bicarbonate, Monocalcium Phosphate).

Toppings: Follow Your Heart Dairy-Free Mozzarella Shreds (Filtered Water, Organic Coconut Oil, Potato and Corn Starch, Expeller-Pressed Canola Oil, Less than 2% of: Potato Protein, Sea Salt, Calcium Phosphate, Vegetable Glycerin, Cellulose, Lactic Acid, Citric Acid, Sodium Citrate, Sodium Bicarbonate, Natural Flavors, Beta Carotene for Color), Nutritional Yeast (Dried Yeast, Niacin, Pyridoxine Hydrochloride (Vitamin B6), Thiamine Hydrochloride (Vitamin B1), Riboflavin (Vitamin B2), Folic Acid, Cyanocobalamin (Vitamin B12)), Oregano, Basil.

Sauce: Tomatoes, Date Powder, Roasted Garlic, Salt, Caramelized Onion, Garlic Powder, Basil, Basil Extract, Oregano.

We recommend baking our pizza directly on the oven rack so air can flow underneath, making it crispy all over but still doughy on the inside (and one less pan to wash!). The raised edge of the crust keeps everything in place so your oven will stay clean. If you prefer to bake on a pizza stone or baking sheet, keep it in the oven while it pre-heats to ensure the pizza gets crispy on the bottom.
Turn on your oven light so you can watch as your pizzas bake! If your oven runs hotter on one side, rotate the pizza around halfway through. When it's done baking, use tongs to pull your pizza directly onto a cutting board.
Craving a grilled pizza? Set the heat on your grill to medium while letting your pizza sit out on a countertop at room temp for a few minutes. Grill, toppings side up, until cheese is melted and crust is lightly charred.
Wait 2-3 minutes before slicing.
Banza VS Average Cauliflower Pizza Crust
How to Cook Banza Plant-Based Cheese Pizza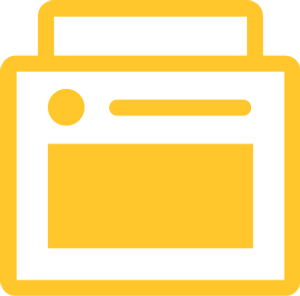 Step 1
Preheat oven to 400ºF.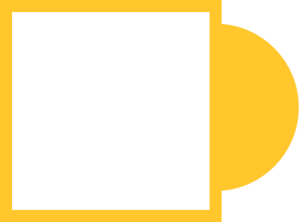 Step 2
Remove pizza from box and unwrap all packaging.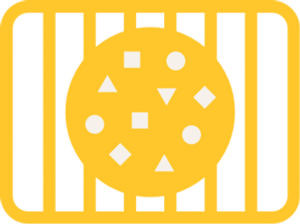 Step 3
Place pizza directly on middle oven rack. Bake until cheese is melted and crust is light golden, 15-18 minutes.
Step 4
Watch as it cooks, oven temperatures and times vary.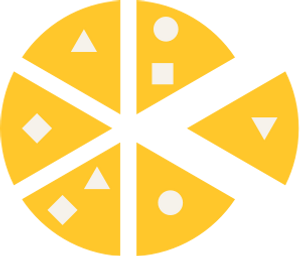 Step 5
Remove from oven with tongs or a spatula. Let pizza sit for 2-3 minutes before slicing. Slice & enjoy!
How Banza Pizza Stacks Up
Made from
Chickpeas
Perfectly crispy. Delightfully doughy. The only pizza made from chickpeas.
Ambitious and
Nutritious
Gluten-free and protein-packed. Pizza you can eat every night.
Most importantly…
Delicious
"The crust is thick yet crispy and the sauce tastes super fresh. I'm definitely a fan!!" - Jenny
Customer Reviews
<! –– Bazaarvoice Shopify Integration Version 1.8 ––>